(surprisingly not in any book)
As my main present to one of my nieces this Christmas, I booked for us to go ice skating. It's kinda turned into a tradition of sorts, each winter for the past few years we've been ice skating (2015 was the London Eye, 2014 Winter Wonderland, pretty sure we did somewhere else in 2013), so this year I thought we should go somewhere else and chose the iconic Tower of London.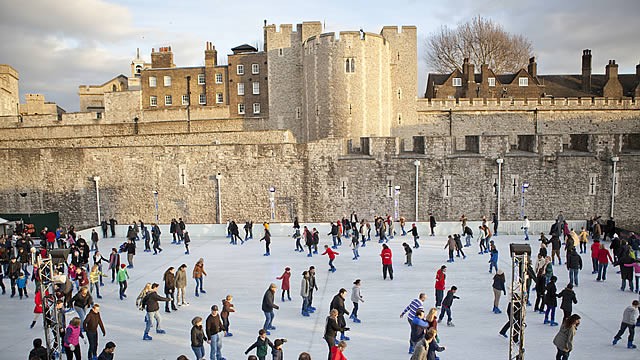 Image courtesy of visitlondon.com (frustratingly I forgot to take a photo!)
So on Saturday 02 January 2016, my niece and I got on a train from east London to the city. I was a little worried as I knew of a few occasions where the rink had been closed due a pretty damn warm December.
Thankfully that wasn't the case for us! But we did have to contend with this...
Don't get me wrong, there was ice. And it was enough to skate on. But it became more and more of a large pond as the session went on.
If you look at the picture above closely, you can see the ripples of the water as people are skating. And falling over. There was a lot of people falling over. On to cold water, in January. I am pretty sure that it was only me and my niece that didn't fall over during our session! And if you look in the photo there is some legs sitting on the ice...
We also didn't have that many people on the ice with us which helped, if it was fuller, I'm pretty sure we would have been on the floor at some point!
Anyway, we had a great time with a gorgeous setting of the Tower, Tower Bridge, the Thames and the Shard.
My niece and I
Obligatory skates shot...
The session was for an hour (
although I was convinced it was 45 mins for some reason), and I'll be honest it was enough. My feet were fairly sore afterwards, but it did remind me just how much I like ice skating. Don't get me wrong, I am pretty hopeless with it - I can only really go in straight lines. Slowly. But it has made me want to take some proper lessons which I've already looked into and will probably start in a couple of months.
So the prices and stuff... for an hours peak time session it was £14 for me, and £10 for my niece as she's under 16. Didn't think it was too terrible to be honest. Although, we didn't get asked for our tickets once which I thought was pretty bad. Although the rink is now closed, I'm pretty sure it'll be back in November/December this year. I was going to put the website down here, but all it does now is tell you the rink is now shut. Not entirely useful.
Next year will probably be the rink outside the Natural History Museum, another one that I can tick off the list. And by that
time I'm pretty sure I'll almost be on par with Jane Torvill...